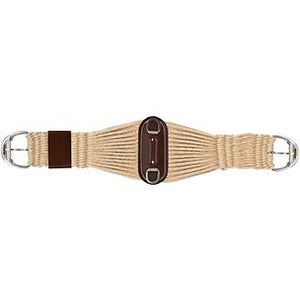 Mohair Roper Style Cinch (699)
This 27-strand Mohair blend roper cinch features a leather sewn center, billet pocket and dual Mustang stainless steel Pro-Roller buckles. One-inch stainless steel dees are inset on the leather center.
This cinch is strung by hand.  The cinch cord is strung and stretched to size while assembling the cinch.  Different cinch cords have different elasticity and bounce back and once the cinch is taken off the manufacturing jig. It is possible for it to "shrink" down in size, but once it is cinched down under saddle, it will be the true original length. 
---
We Also Recommend
---