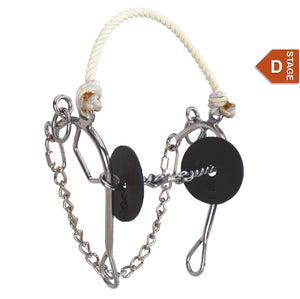 Martha Josey Million Dollar Gag Bit (0110-0000)
These are gag bits designed to work with horses in all stages of barrel racing training and competition endorsed by Martha Josey.
The Million Dollar bit has won a lot of money for many riders. This bit features a stainless steel 3-piece twisted wire dog bone snaffle mouthpiece and a rope noseband. Equipped with a 5" shank, the Million Dollar bit is ideal because the pressure is evenly distributed on the nose, bars, corners of the mouth, curb, and poll. This bit is one of our all-time proven favorites at the Josey Ranch.
---
We Also Recommend
---