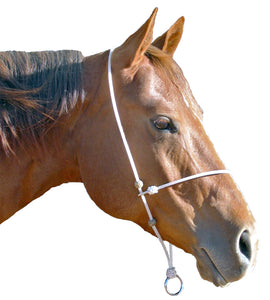 Rope Head Setter (019H)
Description: This headsetter is made of 3/16 inch rope. All hardware is stainless steel. The knots are made of hand braided rawhide.
How it works: Pressure is applied from the tiedown strap to the nose as the head goes up causing the cheek pieces to slide through the nose piece rings until they hit the top stops on the cheek pieces. As the cheek pieces are sliding pressure is increased at the poll. This headsetter applies more pressure to the poll than to the nose. The pressure points together cause the horse to lower his head to a natural position to find release. This is a very popular training tool with ropers and can help those horses that have a tendency to raise their heads while roping. It can be a great training aid for other disciplines also. Horses can learn to ride with their heads lower if ridden in the headsetter tiedown.
---
We Also Recommend
---